Awnings as a design feature - get inspired!
Wide choice of fabric types and colour offers a variety of applications in shading recreational and utility areas, front yards and shop windows. Awnings also make the atmosphere in interior more pleasant in bright sunlight. In folded state they do not interfere with the exterior appearance. According to the chosen model design one can choose the fabric to be protected from adverse weather effects through a winding cover.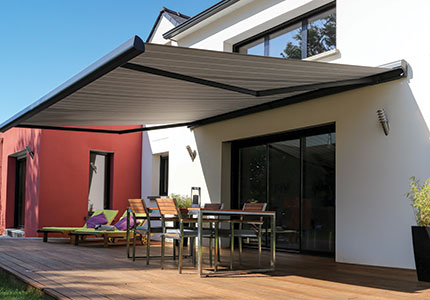 AWNINGS UNDERSCORE THE ARCHITECTURAL LOOK OF YOUR HOUSE
Awnings have several advantages. Above all, they are able to shade larger areas of terraces, balconies and glazed shop windows. They further complete the architectural look of the building and become its integral part.
We offer a large variety of models that suit all purposes.
SIMPLE OPERATION
The basic type is handle operation. In the case of multiple awnings or awnings with a larger area it is convenient to have a switch operated motor control or remote control. Required supplement today is a sensor that automatically pulls the awning down in windy conditions and prevents it from damaging.
CHOICE OF 8 TYPES OF RETRACTABLE AWNINGS